Tune in for one of the most exciting Snow Bike episodes as we talk with Riley Will of BRC Engineering about his revolutionary 500cc 2 Stroke Engine built on the KTM 250 or 300 engine and KTM chassis. This episode was recorded on August 2018 so it's been in the warehouse for a while!
In this episode, we also discuss the V-Twin 600 Engine which was a prototype Riley developed for Timbersled. The idea was to be first to snow with a purpose-built SnowBike rather than a kit. Unfortunately, Polaris bought Timbersled and the V-Twin never made it to market. The engine made 120hp, 78.5ftlbs and was as narrow as a single cylinder. Perfect for a SnowBike! Riley got a patent for the drivetrain on a single ski and track snow vehicle hoping that in the future the OEMs will go this route.
Here is the BRC 500cc Engine in Snow Bike Form!
The BRC 500cc 2 Stroke Engine is like nothing the world has ever seen before! Riley Will and his team at BRC Engineering have achieved something truly revolutionary for the Dirt Bike world and in particular, we at Snow Bike Nation are most excited about its application as a Snow Bike!
Photo Source: https://dirtbikemagazine.com/brc-ktm-500cc-2-stroke-conversion-two-stroke-tuesday/
"In a side by side comparison, you can see the straightforward design approach of the BRC 500cc and the comparison with the stock donor engine. Weight distribution remains comparable and rotational inertia is far less than that of a big bore four stroke." https://dirtbikemagazine.com/brc-ktm-500cc-2-stroke-conversion-two-stroke-tuesday/

Photo Source: http://brcracing.ca/
THE KIT COSTS $5635 IN U.S. DOLLARS OR $7500 IN CANADIAN DOLLARS. THE KIT INCLUDES EVERYTHING YOU NEED TO BUILD THE ENGINE, INCLUDING BEARINGS, SEALS, GASKETS, FITTINGS, FASTENERS AND EVEN THE DYNO-TUNED FMF PIPE AND SILENCER.
Photo Source: http://2smokin.com/brc-racings-500cc-two-stroke-kit-for-ktms/
You can order the engine directly from their website though I recommend giving BRC a call to discuss the details and make sure they have some available!
http://brcracing.ca/
Motocross Action Mag put it best about the 500cc 2 Stroke Big Bore Engine: https://motocrossactionmag.com/we-ride-the-brc-500cc-two-stroke-kit-bike/
"The 500cc two-stroke engine became extinct in 2000 when the last Honda CR500 came down Honda's Kumamoto production line in Japan. Kawasaki retired its KX500 in 2004. The last Yamaha WR500 was produced in 1993. Suzuki had a short-lived RM500 venture that came to an end in the mid-1980s. And, well, KTM ended its 500cc program in 1993, then went bigger to a 550cc sidecar engine that only lasted until 1995.
These warhorses that were made for the men among men were forgotten over time. Big-displacement two-strokes took riders with finesse and a few screws loose to tame them. Now, in a world populated by heavy, complex, 450cc four-stroke engines that pump out 60-plus horsepower off the showroom floor, the 500cc two-stroke doesn't seem as intimidating to ride as it once did. Riders like Sean Collier and Tyler Bowers have shown that these 500cc beasts can be manhandled. In recent years, the 500cc two-stroke market has been booming, and without any manufacturers producing these big-bore engines, the used 500cc market has exploded. New parts are few and far between and used parts only last so long. This is why the BRC Engineering team came together to find a solution to the problem."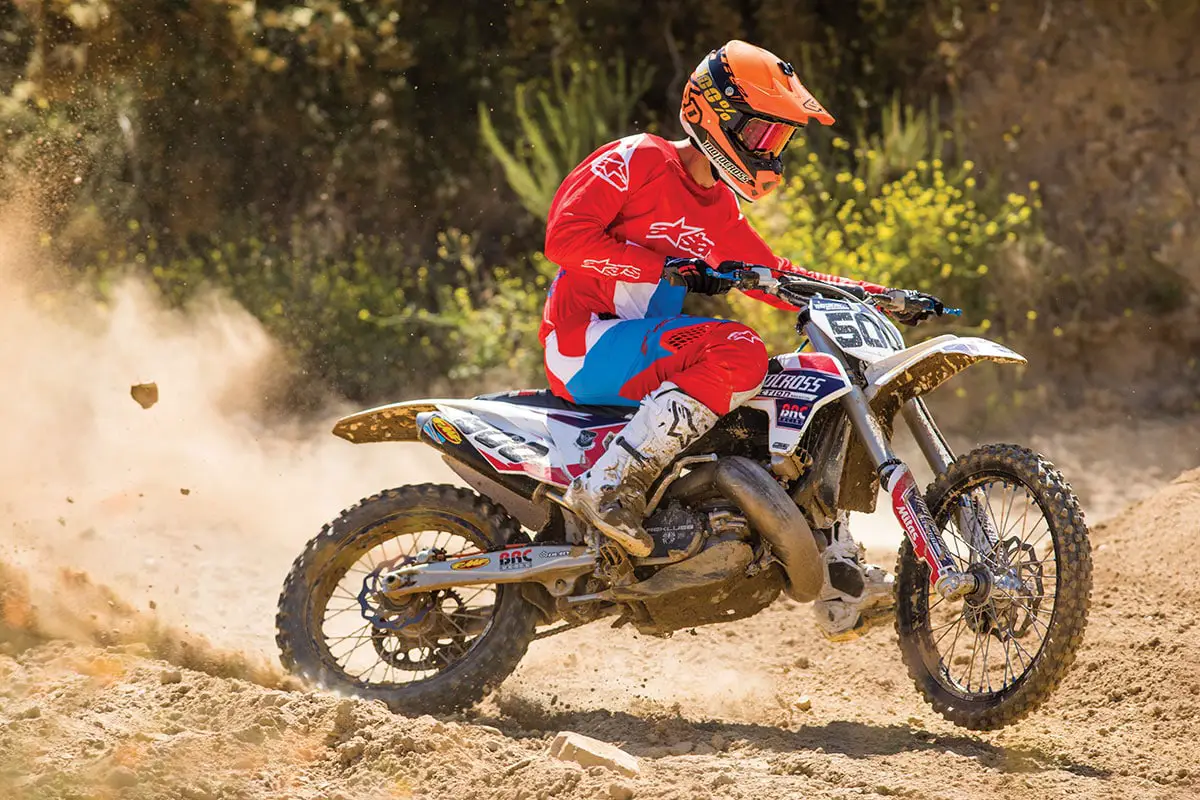 Photo Source: https://motocrossactionmag.com/we-ride-the-brc-500cc-two-stroke-kit-bike/
Based in Calgary, Alberta BRC Engineering specializes in the design and manufacture of premium high-pressure flow control products for the oil and gas industry. BRC Engineering has its roots as a full-service machine shop and continues to provide CNC machining, CMM inspection, precision assembly, and pressure testing services to customers in the energy, agriculture, forestry, mining, medical, defense, aerospace, and motorsports industries.
Founded in 1996 by Brian Will, BRC Engineering is now run by his sons, Carter and Riley, who manage a team of talented personnel, including professional engineers, design technologists, and journeyman machinists dedicated to providing world-class solutions. BRC Engineering's state of the art computer-aided design and manufacturing equipment, combined with strict quality control procedures ensures superior product quality with on-time delivery.
Riley was a Kart racer growing up and they started a Kart Racing shop where they imported products from Europe and supplied the local and North American Kart racing market. In 2002 they sold the kart shop and focused on manufacturing engines as part of our business. Motorsports had been a smaller part of their business until recently.
Check out this awesome video from Dirt Bike Magazine with an interview of Riley Will and to see the BRC 500cc 2 Stroke Engine in action!
Prototype BRC Snow Bike Riley Discussed – Check out that CVT Transmission!!!
"I am personally very excited about the possible application of the BRC 500cc Engine on a snowbike and I hope I get to try it soon!" – Kyle Allred
For more information about BRC Racing and their Engine check out the below links.
Leave your comments and let us know what you think about the BRC 500cc engine.
You can contact Riley Will at [email protected]
BRC Engineering: http://brcracing.ca/
https://brceng.com
BRC Racing Facebook Photos: https://www.facebook.com/pg/brcracingcanada/photos/?ref=page_internal
Instagram: https://www.instagram.com/brcracingcanada/

Sources:
2 Smokin: http://2smokin.com/brc-racings-500cc-two-stroke-kit-for-ktms/
Motocross Action Mag: https://motocrossactionmag.com/we-ride-the-brc-500cc-two-stroke-kit-bike/
Dirt Bike Magazine: https://dirtbikemagazine.com/brc-ktm-500cc-2-stroke-conversion-two-stroke-tuesday/